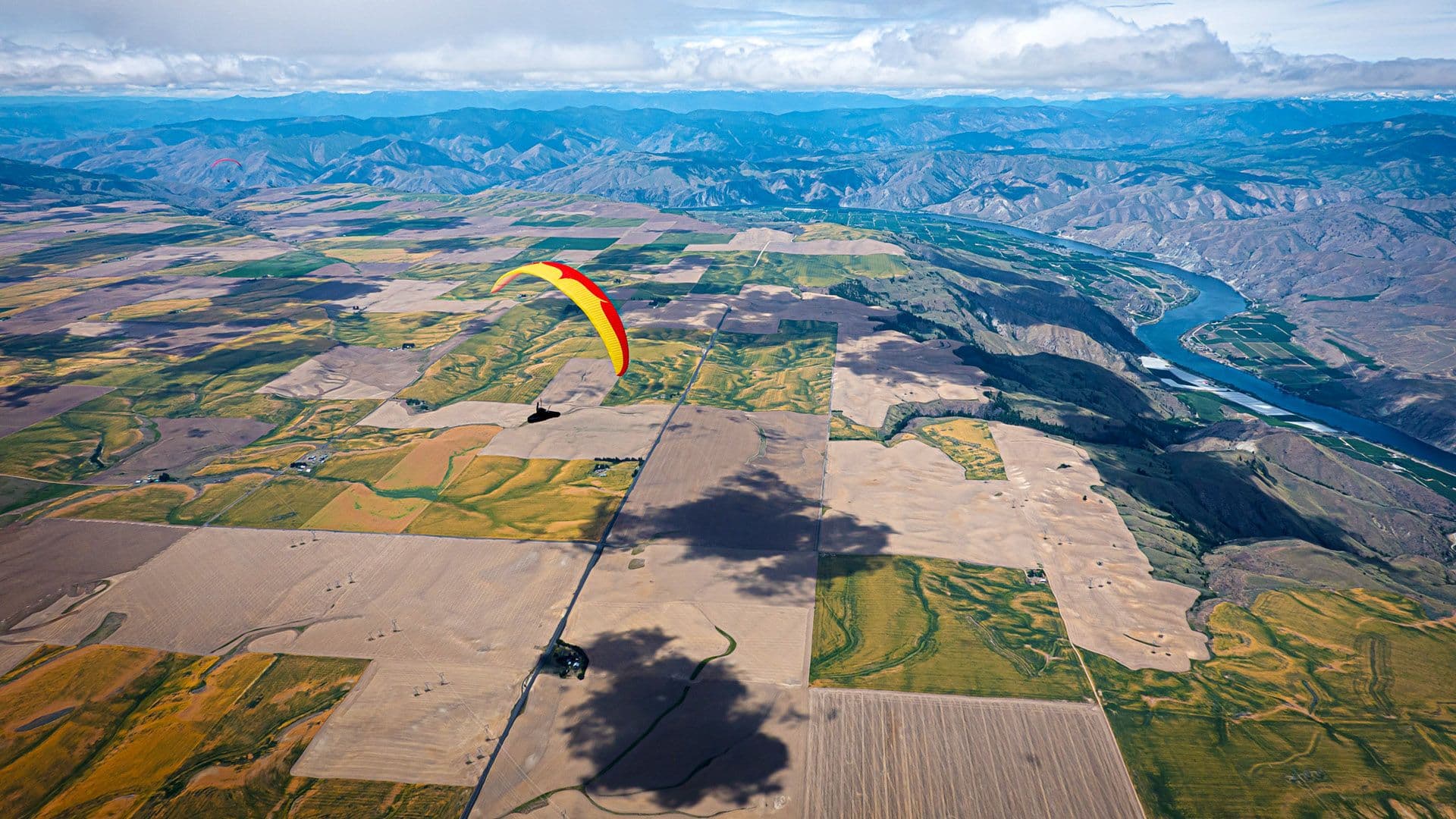 CHELAN US OPEN 2019
Published on:
16 Jul 2019
The final event of the US Paragliding Nationals, celebrated in Chelan, has come to a close.
Ozone Team pilot, Nick Greece reports:
"Chelan, Washington is one of the top flatland paragliding competition arenas in the World! This year the US National Championship's final leg was held in this part of Washington where pilots get to fly through beautiful mountains, across incredible flatlands with rivers and hanging lakes cutting the wheat filled landscapes where a glacial explosion carved a swath from Canada through Washington and Oregon million of years ago. Passing over historic cities like Coulee City, which houses one of America's greatest engineering achievements of the 1930's, Grand Coulee Dam. Grand Coulee Dam is a concrete gravity dam on the Columbia River in the U.S. state of Washington, built to produce hydroelectric power and provide irrigation water.
Racing paragliders is similar to sailboat racing. In this competition 150 competitors launch in an hour-long window and get into position for the start. We then race for 2 to 5 hours across wide expanses ranging from 40 to 100 mile-long courses averaging speeds of 20-40 mph per day. The first person to come in gets 1000 points and one point for every second behind the winner is deducted from competitors who arrive after the day winner. For every four days raced, one day is dropped to take away any luck factors and after seven days the scores are added and we have a winner! It is a glorious game of real life aerial chess that is one of the finest sporting contests in the world, and the fact that we live in a time where we can race around the sky hanging from nylon and string is always celebrated at these events!
This year I was able to hang on and grab the second place spot! I am over the moon thrilled to be able to place with such a stiff level of competition and a huge congrats to Donizete Lemos who after 5 days of racing, deservedly, earned first!
Hopefully we'll have a World Cup in Chelan next year!!!! "
Final Results:
Overall
1.Donizete Lemos (Brazil/Enzo 3)
2.Nicholas Greece (USA/Enzo 3)
3.Owen Shoemaker (USA/Enzo 3)
Women
1.Bianca Heinrich (USA/ZENO)
2.Patricia Garcia de Letona (USA/ZENO)
3.Lindsay Matush
Sport
1.Kelly Myrkle (USA/DELTA 3)
2.Dustin Pachura
3.Lindsay Matush
For full results Click Here.
Congrats and cheers from all the Ozone team.
Photos Courtesy of Nick Greece and Matt Henzi