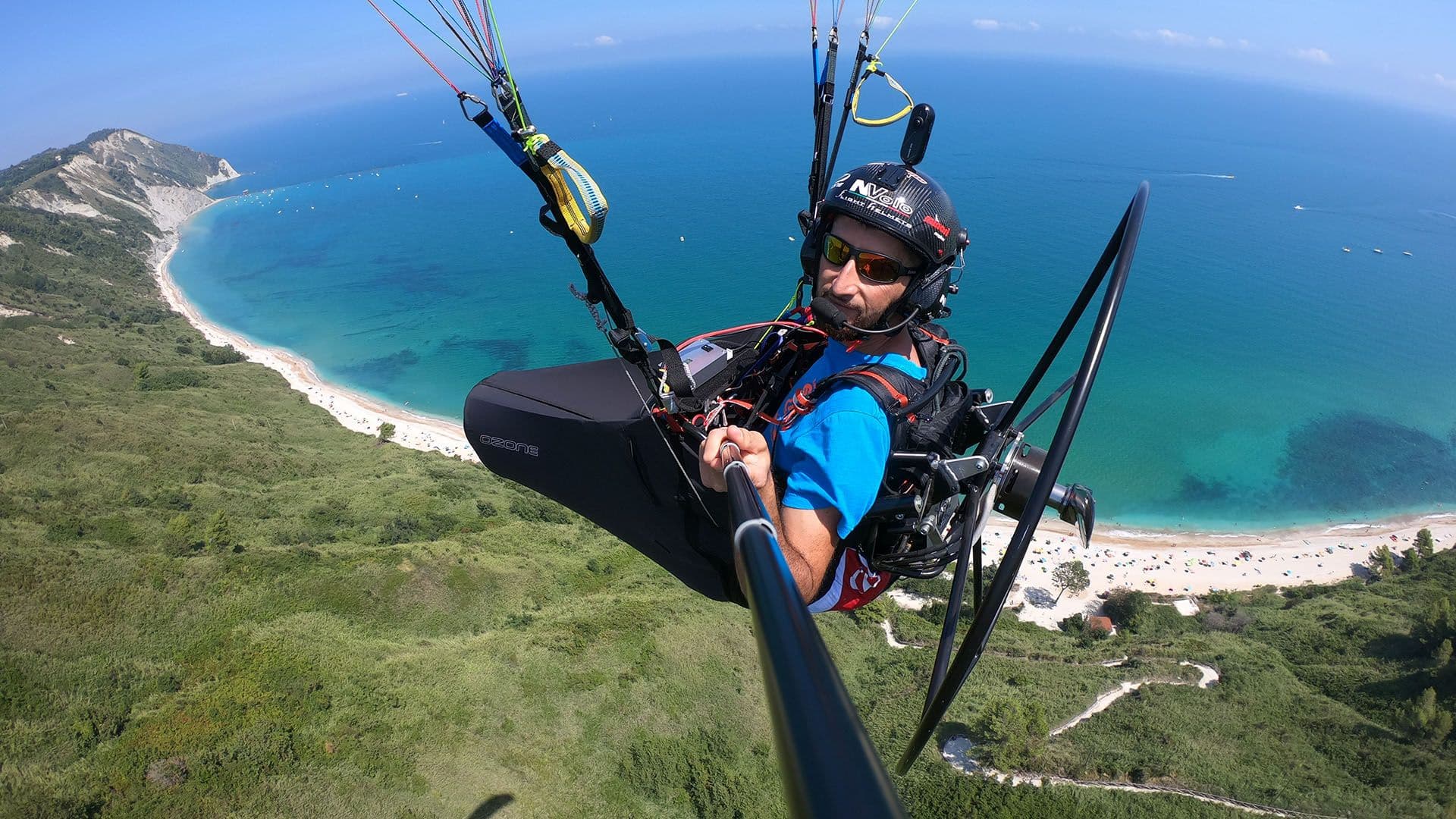 Electric engine for Ozium 2 harness?
Published on:
18 May 2020
Ozone team pilot Raffaele Benetti builds an electric engine for Ozium 2 harness, which offers easier and longer xc flights!
During last year Coupe Icare 2019 Raffaele Benetti presented a new electric motor built into an Ozone Ozium 2 harness. He also demonstrated the take-off, climb and flight-by several times using Ozone Viper 3.
Raffaele talks about his project: "I have been flying paragliders for 24 years and I understand the pain of most paragliding pilots "wasting" time to travel to the mountains and waiting for good conditions to fly. I know that an option to take-off from the flat level independently would be an attractive alternative. A standard paramotor is not an answer, because the performance and sensation are very different to what paragliding pilots are looking for. Thinking of a better solution, I came up with this idea. I started to build a prototype 2 years ago using an Ozone Ozium 2 harness. My target was "no compromises", light weight machine, with the same feeling as the original harness: same position, same weight shifting, minimalize drag from the motor and prop and easy to install on any standard harness. My experience in flying and building paramotors obviously helped me to find good solutions and to finish the first prototype in a short time ready for flight tests. I loved it from the first flight. The sensations in flight is completely different than usual paramotor flying, the position is different, glide, the feeling in the air due to hang points, the combination of all made me feel like I discovered a new way to fly!
The unit I displayed in the last Coupe Icare (2019) weights 14 kg, including a 16A 44 volts lithium battery. Motor and 80 cm propeller have about 40 kg of thrust. This is enough power to take off from the ground and climb high enough to catch the first thermals on an average thermic day. Anyone can fly it, but it is necessary to get special training for the engine preparation and maintenance. For paragliding pilots with less paramotoring experience I recommend to take off from a paragliding take-off or a small hill. I think this new motor is a fantastic solution for anyone who lives far away from the nearest paragliding spot or simply anyone who is interested in a new way of flying.
Of course, I am thinking about further development, I am working with Minari Engine to build a new electric motor with more thrust and a bigger propeller. In addition, I am planning to develop a conventional engine to reduce the price and give more flight time so that it can be used not only as a means to climb on a paragliding but also as a new paramotor machine for long and comfortable xc flights.

We wish Raffaele good luck for the development and look forward to trying this new machine!
Cheers from all the Ozone Team