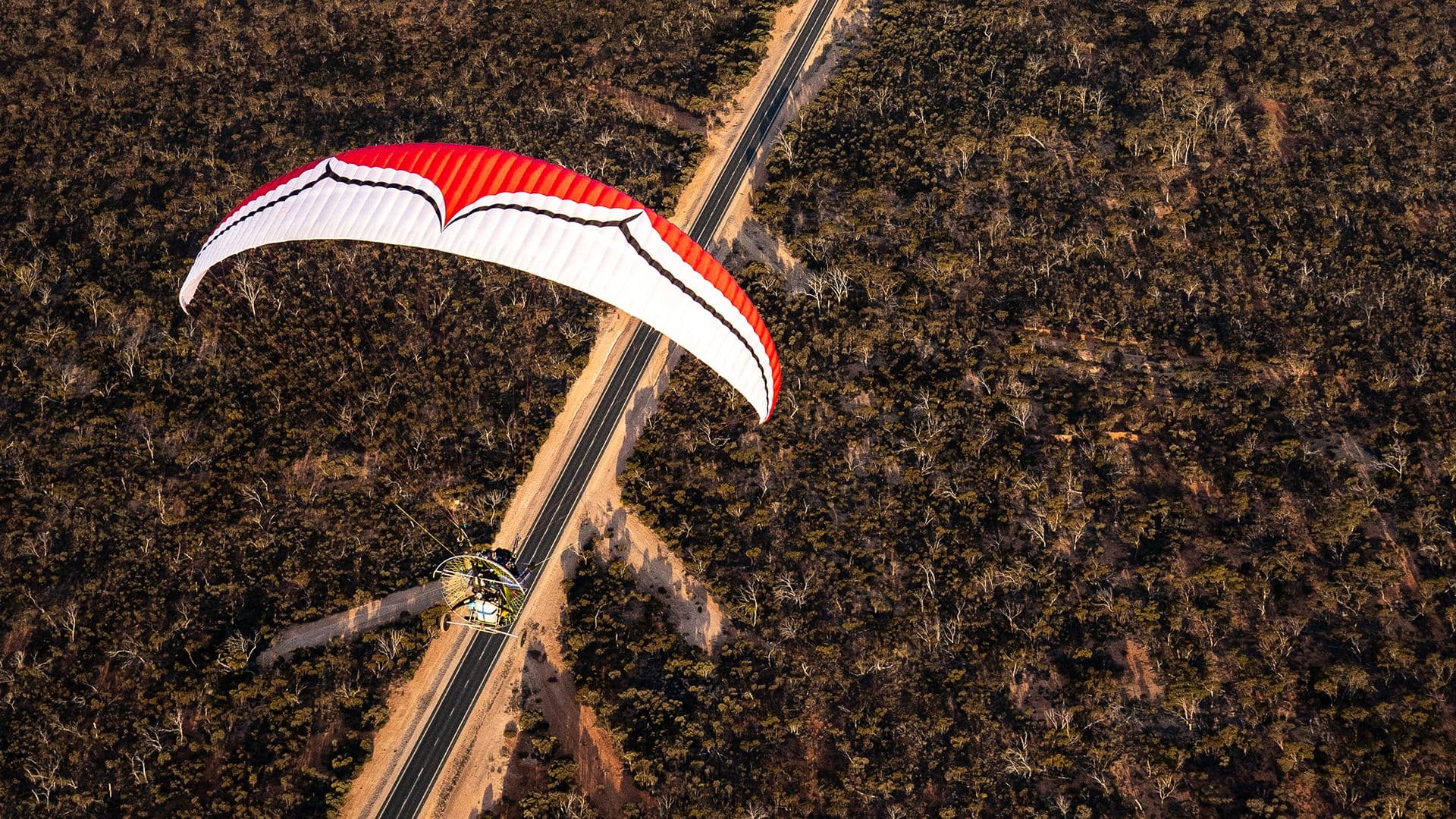 Flying 5000 km across Australia Unsupported
Published on:
06 Dec 2022
Two UK pilots Richard Dolan and Andrew Twitty flew on their paramotors 5000 km across Australia unsupported. Here is their story:
"The red dirt enhances the suns glare as we begin to unload the car at the Overlander Roadhouse. It's refreshing to finally be free of those 4 wheels after a tedious 8 day drive across the continent, yes...we're flying 5000 km across a continent! The challenge we've taken on is finally starting to set in as we continue to assemble the paramotors. We're based 180km from the most Westerly point of Australia whilst we get ready to take on this World Record Challenge, unsupported. 6 months of preparation (mainly by Scott Ryan) to land us here and we're naively confident it will take around 5 weeks to complete.
The start eventually rolls around and we begin our return flight to the first checkpoint, Steep Point. Climbing up to a safe height we notice the road disappear off onto the horizon and continue to do so for the next 3 hours. This never ending road has brought home the magnitude of our journey and I'm starting to wonder why on earth we started this thing. Oh well, it's only 5 weeks…
The sun is shining, we've got a consistent tailwind and the views are breath-taking. A gentle glide to the edge of Australia, a moment to take in the views before turning back towards The Overlander. By this time the land has heated up and switched the wind, giving us a helping hand to beat sunset. Almost everything about this day is in our favour, minus a few minor hiccups. Just making last light, we've managed 360km in 1 day. Man, this thing is going to be easy! What we now know was a false sense of security, a deceiving dip into the Australian weather and the unpredictable challenges that lay ahead. From here on in, we're in for a rough ride!
The first and largest problem we faced was, of course, the weather. What the news stated as the worst rain in 100 years, delayed us for weeks at a time in the most remote locations. But the weather was not the only thing to test our grit. In between these persistent storms were challenges tough enough to warrant throwing in the towel. Amongst the list includes 3 broken propellors, 1 broken trike, 1 bent axle, 1 wing repair, 3 tyres, 3 blown pistons, 4 engine rebuilds, 3 emergency landings and 2 snakes.
But the pinnacle of tests, the hardest challenge of the whole trip, came only 50km from the final destination, Byron Bay. A final engine blowout left us with a 4 hour mission to recover Andrew Twitty, and his gear, from a swamp alarmingly named Death Adder Trail. A brutal reminder to never get complacent while flying, no matter how close you are to the end.
Remember that 5 weeks? Well...13 weeks later we finally touched down on Byron Bay beach, elated and in dire need of a barbershop.
You might be asking was all the hardship, time away from loved ones and the cost worth it? You bet! All of the challenges we faced along the way were actually a blessing in disguise because it forced us to see things up close and more importantly meet some incredible people. The awe inspiring sights, that are only seen otherwise in films, and a lifetime of great memories to look back on make all of those days' worth while.
So to close this brief recap of our adventure I will end with some words of advice. If you are even remotely considering taking on a challenge or buckling up your helmet for a paramotor adventure, I can strongly recommend pushing for it with all your might! You'll meet new friends, see unforgettable sights and of course, have some great tales for the pub" Richard Dolan
If you'd like to see exactly how the chaos unfolded, head to www.youtube.com/@rich_dolan
Details of the trip:
- Start Point: Overlander Roadhouse, Western Australia on 28th July 2022
- Finish Point: Byron Bay Beach, New South Wales on 28th Oct 2022
- Total Distance Flown: 5216km
- Days Flown: 31
- Days Stopped: 60
- Total time: 91 Days, 20 hours, 33 minutes
- Equipment R. Dolan: FlyProducts, Polini Thor 202, Ozone Speedster3 24.
- Equipment A. Twitty: MacFly, Polini Thor 202, 3 Ozone Viper 5 22.